Please Switch On (Your Mobile Phones)
Friday 8 November 22:00, SOT bar & burger
Have you ever wondered how do choreographers choose what to make a dance out of? And how they turn ideas into movement? And how they turn that movement into a show? Now you can experience the whole process in one event.
Please Switch On (Your Mobile Phones) is a system for the democratic co-creation of dance shows. For DansFestival Barents, TaikaBox travel to Hammerfest to form a new group of performers to make short dance pieces out of your stories. Bring your smartphone to help us decide what to make and how to make it. Every PSO event is a unique set of experiences as the audience push the dancers to their limits and beyond. taikabox.com/pleaseswitchon
Ticket information
If you have a Norwegian Vipps: DanseFestival Barents #117954
There will also be door sales

Full price: 150 NOK
Discounted (Student/Senior): 100 NOK
Festivalpass price (if you have a festival pass festivalpass): 75 NOK

FESTIVAL PASS
Festival pass can be purchased here: https://pay.ebillett.no/velg_antall.php?lang=en&arrnr=20378&p_id=158&receipt_id=0&
Festival pass gives you 50% discount on full price tickets on all performances
(NOTE. This does note include MOTION-REMOTE, Panoramadance walk, ISOBAR seminar and the Film seminar)

Duration 1hr (no interval)

TaikaBox is based in Oulu, Finland and was founded in Wales in 2010 by choreographer/dancer Tanja Råman and video artist John Collingswood. The company's name is taken from the Finnish word: 'Taika' which means 'magical' or 'enchanted'. Their work is an amalgamation of dance and technology, using digital media to explore new ways for people to experience dance. Tanja and John's long-term collaboration has resulted in the creation of a variety of works including performances for stage, site-responsive dance, films, installations, broadcasts and art works that have toured internationally. taikabox.com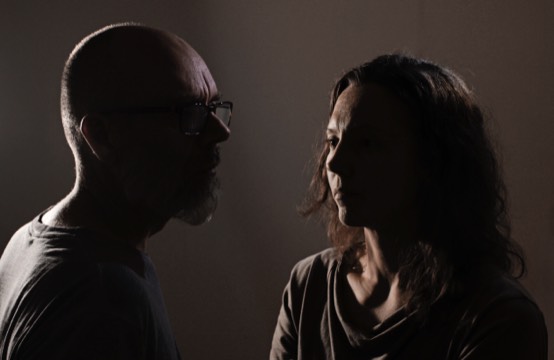 John Collingswood is a British video artist living in Oulu, Northern Finland. He works extensively with dance and performance as a creative and technical collaborator, facilitator and documenter. His main specialism is in developing performance environments that respond to dancers or audience, creating hybrid systems that enhance choreographic expression. He also creates architectural video intervention work, bucking the current trend for spectacular 3D video mapping by installing small-scale abstract video projections that enhance, rather than disguise, beautiful old buildings. John is also a DJ and has spent many enjoyable evenings over the last 3 decades playing old records to appreciative people.

Tanja Råman is a choreographer/dancer and artistic director of TaikaBox. She is also a cranial-sacral therapist and a facilitator for community-based work. She studied a dance degree, teaching qualification and Masters in Dance Science in the UK and she has won the prestigious Creative Wales Award three times. Tanja lived in the UK for over 18 years before returning to Northern Finland in 2015. Tanja's long-term collaboration with John Collingswood has sparked a fascination in integrating dance and technology. She considers technology in her choreographic work as another living being that can extend the physical expression beyond the body. Her mission is to promote dance in everyday life amongst different communities through improvisational performances as well as through online livestream projects.
This performance is a collaboration between TaikaBox, DanseFestival Barents and SOT Hammerfest