UBESKRIVELIG! (Indescribable!)
Saturday 11 November 12 midday, Hammerfest Public Library
Silje and Ola love dance and music. Together with the audience, they will try to put words on what they are experiencing. But sometimes it can sem almost totally... Indescribable!
Do you feel a tingle in the body from the strange sounds Ola makes? Or does it make you daydream? Are you tired? What do you feel when Silje moves as soft as a cat between the benches?

Welcome into a colourful and bright set, where you can sit on nice benches and experience dance and music up close. We think that art can be a good startingpoint for discussion and for letting the imagination run free. This performance want to inspire you to talk about art experiences.

The performance was created for 1st to 4th graders and is touring schools in Northern Norway, but in this open show everyone is welcome.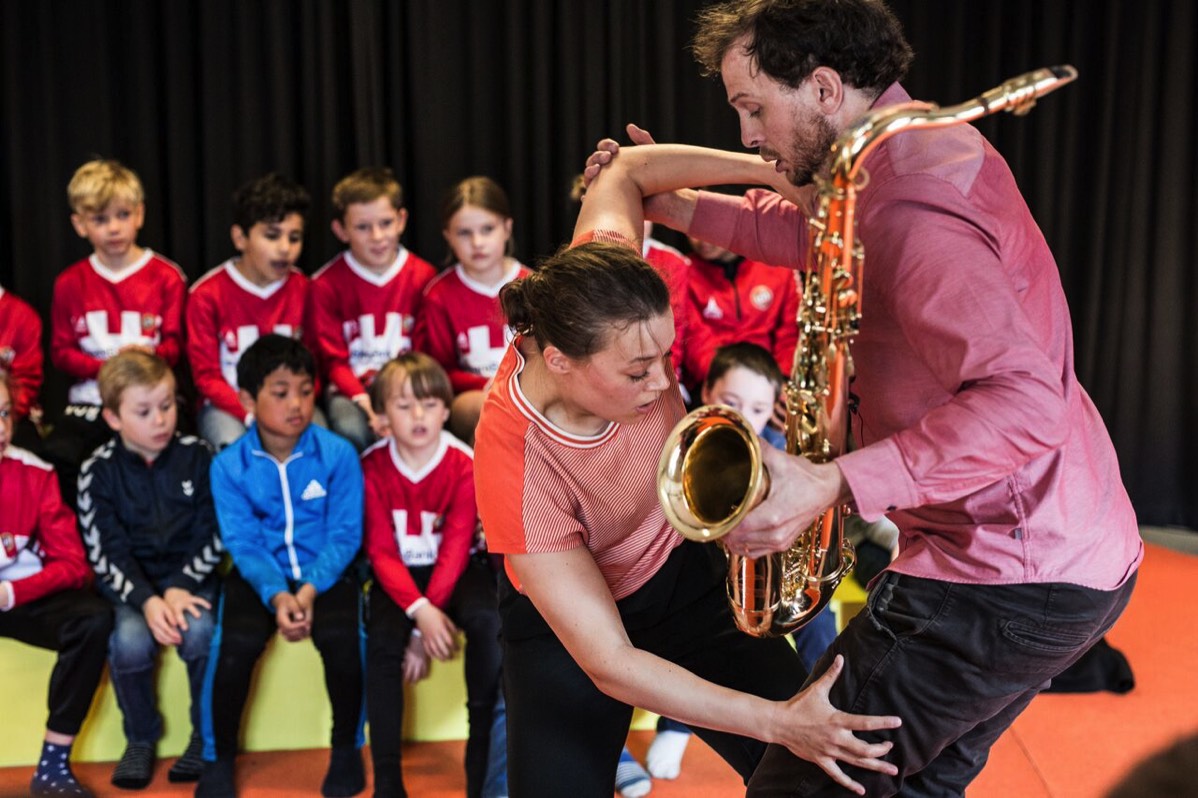 Duration ca. 30 min. Text Norwegian

Choreography/dance Silje Solheim Johnsen Composition/music Ola Asdahl Rokkones Dramaturgy Jenny Svensson Scenography Thale Kvam Olsen Carpenter Melvin Roy van den Berg In preliminary project Håvard Arnhoff (Scenography) and Lina Killingdalen (Dramaturgy)

The performance is a collaboration between DanseFestival Barents, Hammerfest library and Dansearena nord. Ubeskrivelig! Is supported by Arts Council Norway, The Cultural Rucksack and Dansearena nord. Thank you to Tromsø Kulturskole, Rådstua Teaterhus, RadArt - network for independent performing arts and Hålogaland Teater.
Silje Solheim Johnsen (1986) has a degree in contemporary dance from Laban, London and in dance science, NTNU. She has taught a lot in Norway, England and the United States. She works site-specificly and is believes that dance should be experienced in different contexts and that the threshold for experiencing dance should be lower. She is working on creating new and expanding old arenas for where choreographic work can take place. In the past, her work has been about making abstract dance available to a young audience.

Ola Asdahl Rokkones (1983) lives in Tromsø and is one of the few saxophonists who work across several genres - jazz, classical music and folk music. As a classical musician he has been a soloist with several orchestras in both Norway and abroad, and he has performed music by several composers. As a jazz musician he is in several bands and constellations. He has released four records and in 2012 he received Tromsø's cultural award.

www.siljesolheimjohnsen.com
www.olarokkones.no